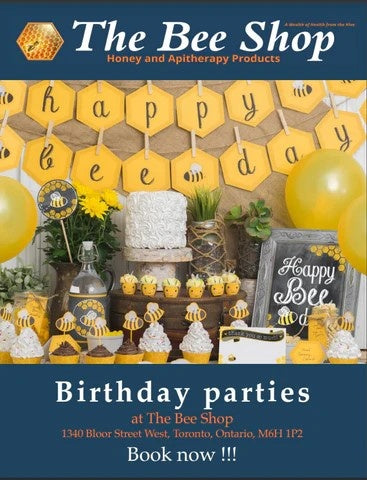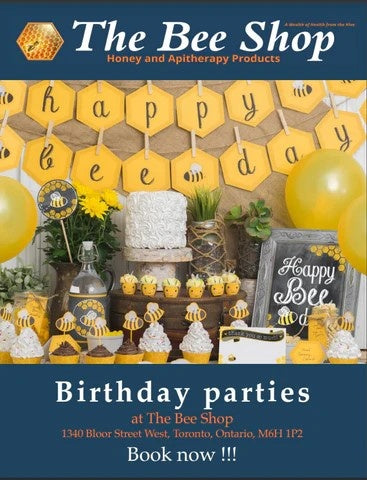 You can now book your bee themed birthday parties at the bee shop.
We have a large main floor room.
2-hour booking for $549 + HST.
Includes up to 10 children including the birthday child. Each additional child is $25 + HST.
A beehive honey cake is included along with honey lemonade.
Each child gets a honey stick, which contains as much honey as a honeybee makes in her lifetime and a token jar of honey (50gr size) from the rooftop hives they will have visited.
Bee themed activities include: beeswax candle making each child gets to make and keep a hexagonal pattern rolled beeswax candle.
Weather permitting a tour of the rooftop bee yard and during the beekeeping season the children can be suited up with protective gear and a beehive will be opened so they can see the live honey bees close up.
The other activity is pollen sleuth or detective activity. The children will be given q-tips so they can pollinate some flowers by hand to appreciate honeybee's pollination services (the honeybees visit over 2 million flowers to make a pound of honey) then the children will be given a small sample of honeybee pollen, a magnifying glass and a pollen chart and they have to match up the different color grains of bee pollen with the legend on the chart which shows what color pollen comes from what flowers.
Venue details: 1340 Bloor Street West, Toronto, Ontario M6H 1P2 (near Lansdowne Avenue) Phone: (416) 533-2337 email: 1beeshop@gmail.com
Bookings can be made during store hours these same times unless otherwise booked can be made available for birthday party bookings. Mon – fri 10am to 7pm sat 10am to 6pm sundays from 11am to 5pm
Please note: at time of booking full payment is required. Cancellations done a minimum of 48 hours prior to the scheduled party are subject to a 15% cancellation fee. No refunds are given if cancellations are done with less than 48 hours' notice.
BooK Now